Hey friends! Today I'm sharing the details of what I wore to church last Sunday! I thought it would be fun to do a Sunday best post because I haven't done one in a hot sec! I also thought y'all would enjoy knowing where I purchased my darling dress bargain dress!
Sunday's are good days for me but they are also busy days. Taking 20 credit hours, being pre-med, working a job and being super involved on campus means generally I have little to no time. On Sunday's I get to leave campus to attend church where I can truly let go of my stress and focus on God. It's a place where I feel safe. I enjoy service and choose to think only about God. It's at this time that I find my strength for the week in Jesus by praying he will direct my path, keep me safe, handle situations that might occur and just walk with me through the week.
 On Sunday's I choose to have a positive mindset because while it's my organic homework day + it's also the day I use to plan for the entire week. (There is no better feeling than checking of a to do list so imagine that times 10! Planning days make a world of difference in my life!) I make my mind up that I want to start the week out positively and organized because nothing is worse than waking up in a rush with nothing to wear (we wear class dress at Sewanee so we have to look nice for class which I love) homework not finished, 1998miss.com a mess and me stressed out. Monday mornings can be filled with sleepy eyes so I prep Sunday night by filling out my planner for the week in order to be aware of the week's obligations. I also prep my blog and vlog for the week (this post was written on SUNDAY!) so that I can upload while I'm in the middle of the week. I pick out my outfit for Monday and I load my backpack up so in the morning I just have to grab it to go!
Spiritual Emphasis 
There's a bible verse that talks about how we should view our days. This is something that my Grandma would greet me with every single morning I woke up at her house and it something I am constantly striving to live by.
Psalm 118:24
King James Version (KJV)
24 This is the day which the Lord hath made; we will rejoice and be glad in it.
As humans we can easily complain and focus on all that is going wrong in a day but this verse says "UH TODAY IS A DAY JESUS MADE FOR YOU!!!! YES YOU ALEXA! SO YOU BETTER BE YOUR BEST TODAY AND BE THANKFUL YOU HAVE ANOTHER DAY!".
So I am intentional about saying this verse everyday especially on Sunday's when I'm tired and know tomorrow is a Monday.
I hope this encouraged you! Be determined to accomplish your goals this week and live fully! Take today to start a positive mindset for tomorrow! YOU GOT THIS GIRL!
My Sunday Best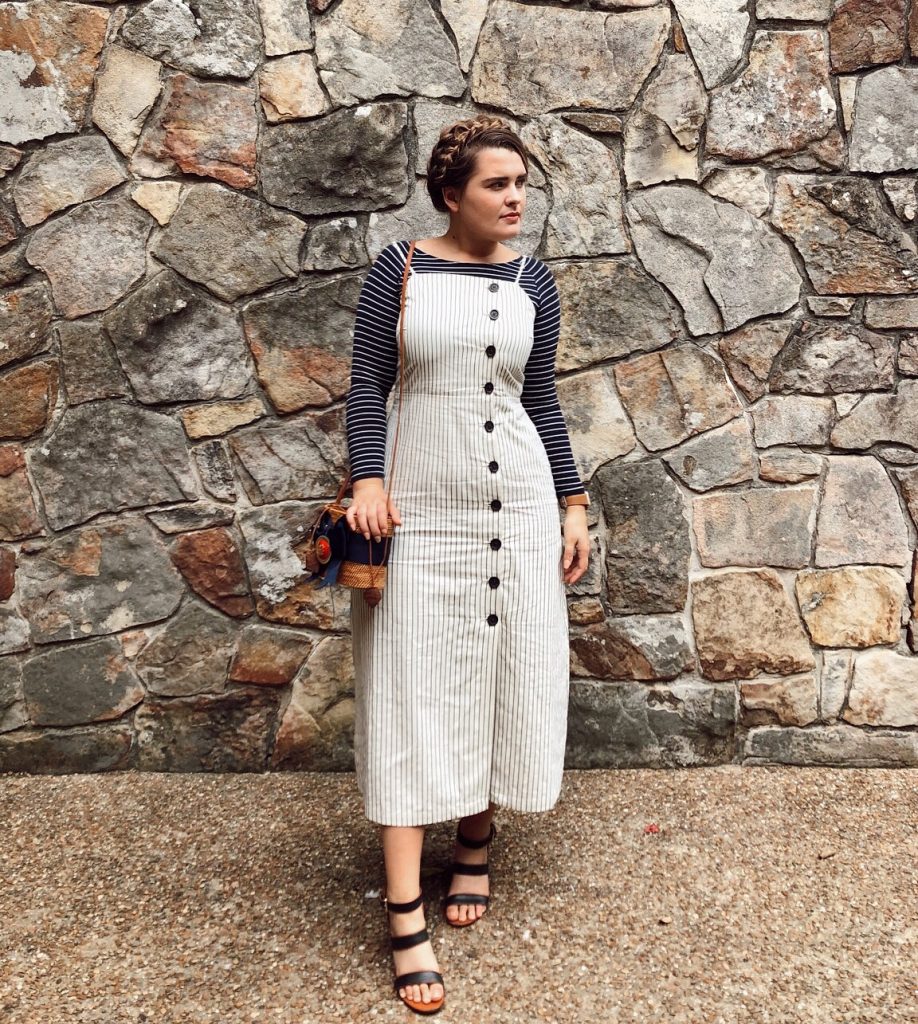 Button Dress: Target| Similar Basket Bag: Amazon| Similar Heels: Cole Haun | Similar Long Sleeved Modesty Top:  Poshmark
Hair: View my Crown Braid Hair Tutorial Here! 
P.S. Be sure to click the links at the bottom of each look…you'll be able to buy them directly!
Also DON'T MISS MY NEWEST VLOGS ON YOUTUBE!!! CLICK HERE!!!
XOXO,
Bless others & Be blessed!
Alexa Sue-Anne Dudley
@1998miss