Happy Easter 2018!
I hope everyone had a blessed day celebrating the resurection of our king JESUS!!! Easter is such a beautiful holiday and is of great significance to myself! In celebration of Easter while being a college student living ten hours from home my holiday is a little different! I still wear my Sunday best, attend church and celebrate Christ but I do it without my family! It's a different feeling without your loved ones! I usually fill my car up with friends to attend service and make up for no special Easter dinner by dinning in the dinning hall on campus with lot's of friends around! I have many friends who grew up in Asia who are not familiar with the significance of Easter and it's been a great joy of mine to teach them about it! I felt so blessed to be the one taking them to their first american church service!
This year Easter fell a little earlier so there were not many beautiful flowers in bloom quite yet but I did find this darling little southern church in downtown Monteagle, TN where I shot my Easter pictures! Huge thank you to my good friend Zahnib for taking the time to do these photos!
This Easter look is inspired by the royal family and I actually just wore pieces I already had in my closet! I spiced up the outfit by pairing different things together! I polished my look with a darling little fascinnator from Dillard's! It was under $50 and it will double as a great Kentucky Derby hat someday! I'm planning to attend the Kentucky Derby at least once during my last two years in TN studying at The University of The South! I choose black because it's a timeless color that will be versitile in the future!
Hoppy Easter Friends!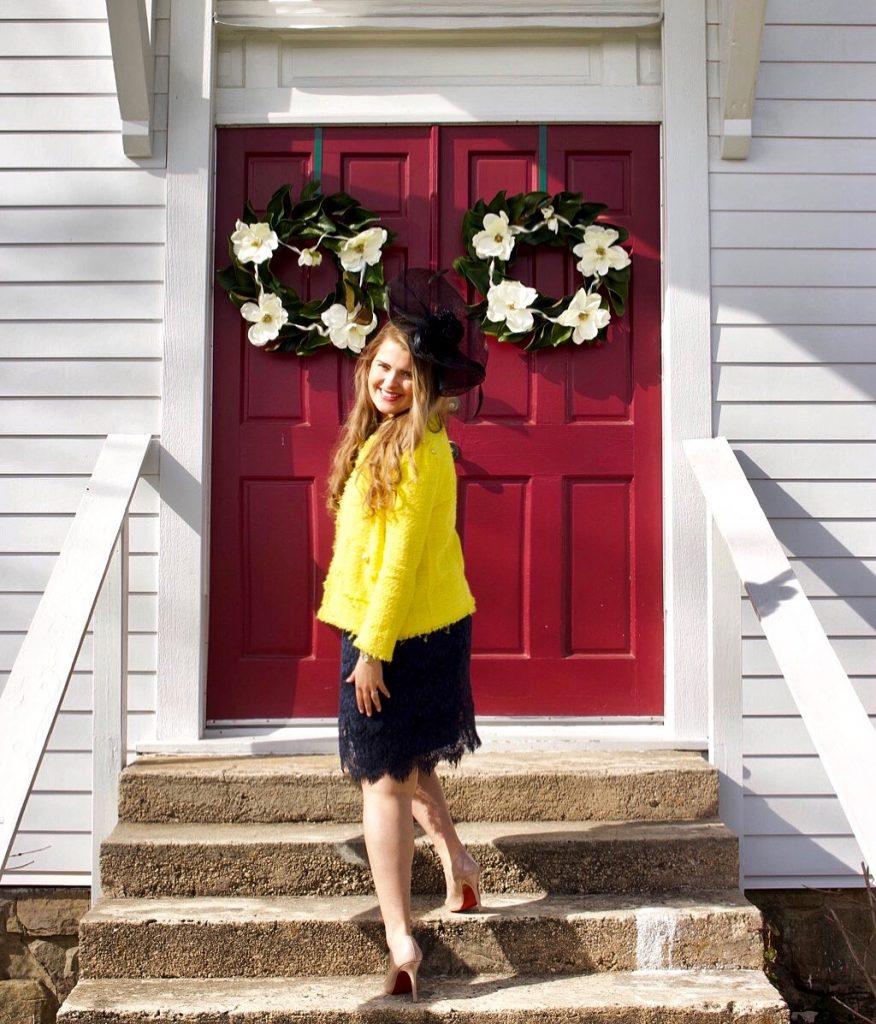 Yellow Tweed Jacket: Zara! | Similar Navy Lace Dress: Dillard's | Classic Nude Red Bottoms: Christian Louboutin | Similar Fascinator: Dillard's | Similar Basket Bag: MarleyLilly
*I purchased my wicker basket bag a few years ago in a little boutique in Oxford Mississippi! It was a pretty penny but it has been a classic in my closet! I have had since I was a freshman in high school!! It usually makes an appearance on Easter and into the summer! It's a false monogram but is still so darling! I love this simplicity of it and how small the monnogram is! Its classic colors are perfect for all of my looks! I also wanted to apologize-I couldn't find the link to my fascinator! I bummed because I bought it at Dillard's a few days before Easter! The jacket was a $10 sale find at Zara and I loved it! My school color is yellow and the style screams Chanel!
Hope you enjoyed this post! Follow me on instagram for more daily looks + outfit inspo! I'm always recycling clothes in my closet!
Bless others and be blessed!
XOXO,
Alexa Sue-Anne Dudley
@1998miss