Answering your call wil inevitably require sacrifice.
Have you ever felt called to something you blatantly told God you never wanted? I have.
From a very young age I had made it very clear to anyone inquiring about my forming ministry that though I didn't know exactly what my calling was, I was absolutely SURE it was not at all related to global missions. I actually remember saying at one point, "God wouldn't call me to the foreign missions field because He knows I wouldn't go." I refused – not from a place of rebellion, but from fear of the unknown. I didn't want to leave my family. I didn't want to leave my church. And I c ertainly didn't want to leave my country. It was great that some people would drop their lives to reach people far and wide, but that just wasn't me – It was just way too far out of my comfort zone. And that was that… Or so I thought.
PAUSE: One thing you should know about me is I am an AVID planner. Like, it's kind of ridiculous honestly. I make daily lists. I do intricate research on places I'm traveling to & create a detailed itinerary. I pack for vacation two weeks ahead of time. I mean, don't get me wrong… I love a good surprise or a spontaneous road-trip with the girls! (And I'm also quite the procrastinator at times!) But at my core, I like structure – especially when it comes to my personal life. I want to know what's going on. I want a plan that I can stick to and have it go… Well, according to plan!
So anyway, fast forward to 2015. There I was: a twenty-year-old who thought she had it all planned out, walking into the Nashville Music City Center for her first time at the UPCI General Conference. I had gone on a whim with a couple of friends of mine, and, if I'm being real here, I was initially just there to meet new people and hang with my friends. Nothing spiritual.
It just so happened that we had come on the Global Missions service night.
I stood in the middle of the large crowd of that convention center, overwhelmed as I watched missionary after missionary fall to their knees, weeping with joy because enough money was raised to send them back to their mission field. I was an emotional wreck. I realized that these people didn't follow God's call out of obligation, but out of love – love for Him and for people everywhere. They weren't leaving their home to enter the field – the field had become their home. And they were heartbroken every moment they were away from it. They all gave up so much with no expectation to receive anything back. They just wanted to see others changed and God's will fulfilled without regard to what would happen to their personal aspirations – all for His glory. And it was then that I found myself starting to feel a tug on my heart. No, not just a tug. A change.
By the time I reached the altar and stretched up my hands toward Heaven in total surrender to His will, I knew. It wasn't an audible voice. It wasn't a sweeping wind. It was just a complete turn of heart and mind. It was like all of a sudden, my thoughts were set on the country of France and all I wanted was to be a part of the revival happening there. All of a sudden, my
heart ached with a burden for the people of that country – a country so lacking in laborers. All of a sudden, the thing that once was my biggest fear became my deepest passion. And it's only grown since that day.
You see, the funny thing about comfort zones is God really delights in pushing us out of them. All of the time. I'm pretty sure He actually laughs at our comfort zones. But He will only push you for so long before He expects you to make the leap on your own. And I've realized that there comes a point where if you are genuinely seeking to be used by God, you're no longer allowed to have a comfort zone. You have to choose between one or the other: your comfort, or your unconditional desire to serve Him and His kingdom. They're each too big to both fit into your heart.
I've had to learn to trust the Lord… t ruly t rust Him with every fiber of my being. I had to let go of my plans and aspirations so that I could allow room for His. And wildest thing is… The plans He replaced mine with are far bigger and more fantastic than anything I ever dreamed up for myself. It was because I invited God to take control that He revealed talents in me I didn't know were there, and led me to opportunities I never thought I'd have. And three years later, God has so flawlessly orchestrated for me to minister to France at the most perfect time! I could not type all the ways made, promises come to fruition, miracles witnessed, or continuous heart changes within myself that have occurred over the past three years. All I can say is God's unwavering faithfulness to me has been sweeter than I deserve, and I am SO BEYOND thrilled to answer this call!
Answering your call will inevitably require sacrifice – Sometimes a sacrifice of relationships. A sacrifice of time. Of finances. And always a sacrifice of self in some way. But any sacrifice we offer to God will forever be met by great grace and a much greater blessing – for we serve a most kind and loving Savior. But that's not why we sacrifice. We sacrifice for God's kingdom in whatever way we're called so that we can see lives changed and His perfect will fulfilled – all for His glory.
And let me encourage you, friend… The moment you give your everything to Him, is the very same moment you find yourself more fulfilled than you've ever been in your entire life. Sure, there will be days when you have doubts and frustrations. But God knows our struggles and is quick to send peace and clarity into our lives at the time we need it most. And there is a constant joy in knowing you are living in the divine purpose God created just for you. If you stay in your comfort zone, you can still be used by God. But you'll undoubtedly miss out on the very best that He has planned for you. Don't allow fear or pride to dictate your choices, but instead, allow the Lord Almighty to paint a masterpiece of your life's ministry. Rest in the knowledge that He is ceaselessly working for your good through His ways which are far higher than ours. And remember that if God has called you to something, He will not let you fail in your efforts to attain it. He deeply desires to see you succeed and will give you all the tools you need to do so.
1 Thessalonians 5:24 – " Faithful is He who calls you, for He will bring it to pass."
2 Thessalonians 1:11-12 – "To this end also we pray for you always, that our God will count you worthy of your calling, and fulfill every desire for goodness and the work of faith with power, so that the name of Jesus may be glorified in you, and in Him, according to the grace of our God."
Deuteronomy 31:6 – Be strong and courageous. Do not be afraid or terrified because, for the LORD your God goes with you; he will never leave you nor forsake you."
Jeremiah 29:11-14 For I know the plans I have for you," declares the LORD, "plans to prosper you and not to harm you, plans to give you hope and a future.Then you will call on me and come and pray to me, and I will listen to you.You will seek me and find me when you seek me with all your heart. I will be found by you,"
Philippians 4:7 – And the peace of God, which transcends all understanding, will guard your hearts and your minds in Christ Jesus.
Proverbs 3:5-6 – Trust in the LORD with all your heart and lean not on your own understanding; in all your ways submit to him, and he will make your paths straight.
ABOUT THE BLOGGER: PEYTON B. JOHNSTON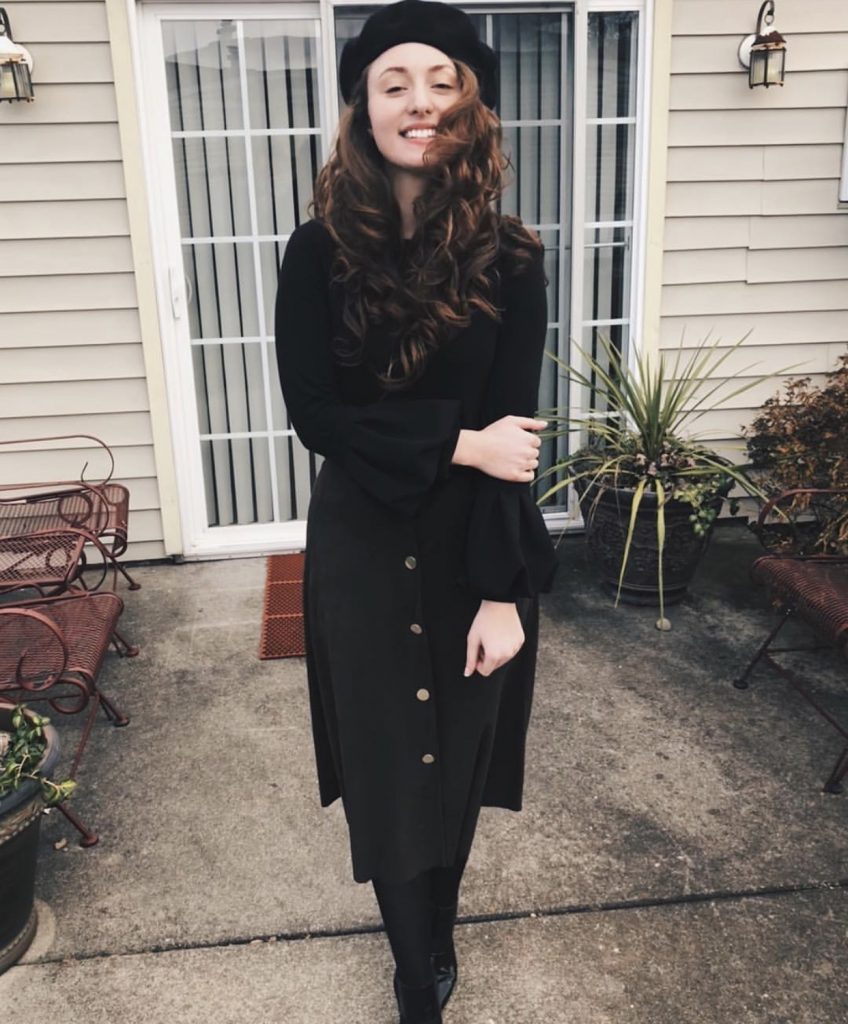 Peyton B. Johnson is a "woman of faith" from Terre Haute, Indiana. She graduated in 2017 with a degree in Business Administration, and now works as a Hilton hotel events coordinator. She's known for being an avid list-maker, drinking far too many hazelnut cappuccinos, taking spontaneous trips, and wearing all black more often than the norm. She's in pursuit of living a life of passionate worship, gracious servanthood, and overflowing love in order to further God's kingdom.
Follow Petyon on instagram @paytonbrianne 
P.S. Please join me in praying for a safe and wonderful time in France for Peyton. She is a sweet gal with a big heart for Jesus and will do wonderful things for the kingdom of God. -Alexa Dudley